Hello my lovley DIY addicts :). Today I have something special for you. For the first time I am taking part in the sewasoftie campaign and for the first time I will show you something sewn by me and my children. Trixie, the founder of Sew a Softie, "a global initiative to inspire adults around the world to sew with the kids in their lives", has many inspiring sewing ideas and even writes books on the topic. Check out her website here!
Since we like to do handicrafts ourselves but, unlike Trixie, have little experience with sewing, we wanted to take on the new challenge and dared to try our first sewing. Since it's summer, we decided to go with a marine animal and sewed a small ray, more precisely a manta ray.
As so often, we paid attention to use upcycling materials and recycled an old dress of mine for this project. If you also like to sew a ray you can of course choose a different material.
Let's go – this is how you sew the ray:
In the first step, let your kids draw a big ray and its sting on a piece of cardboard.
Cut out both the basic shape of the ray and the stinger.
Then trace the templates from both sides on your fabric and cut out again. You have 4 pieces now (both sides of the basic ray shape and both sides of the stinger).
Now turn the pieces of fabric inside out and start sewing together by hand. My kids used the side stitch for this, but you can also use a simple pre-stitch.
First you sew the stinger together, then the main part of the ray. Do not sew approx. 10 cm on both parts and leave the opening.
Now turn the sting and the ray inside out through the opening. Fill tightly with cotton wool or filling material and sew up.
Now sew the stinger to the ray and, if you like, sew darts for the side fins. I took over this part because you have to sew through the animal.
Finally we sewed on eyes. You can either use buttons or fabric for this. Finished!
Have fun sewing, yours Lily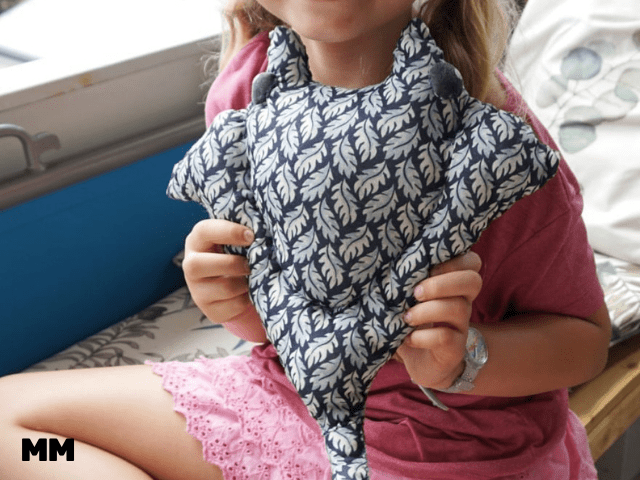 Material:
a piece of fabric or old clothes
filling material like old pillow
small needle
thread